Well, this fall has been a good time to have a birthday and be my friend.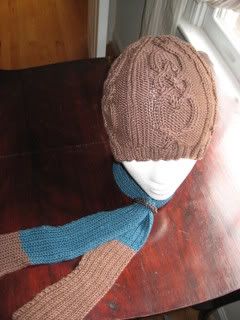 First up, Amy. She had requested a hat for her birthday. This was a bit tricky. Amy has very, very sensitive skin (she had a horrible rash from Transformers temporary tatoos once), so wool was not my first choice. I just couldn't risk it. I decided to
pickup some silky bamboo yarn. Plymouth Royal Bamboo in fact. The pattern is
Garmish
by
Libby Grant
. It was fun, but I should have spent much more time trying to understand the chart than I did. It would have helped me out along the way.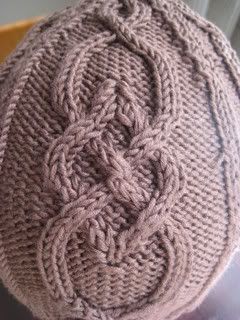 The scarf is a simple 2 x 2 rib. It has asymmetrical brown ends with a lucious blue in the middle. This blue is Amy's color of 2008. It just sings to her, and it matches her eyes to boot.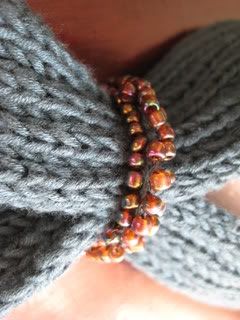 The tie is a pony tail holder that I crocheted the ends of the blue yarn around ( really, I didn't want to waste an inch of the bamboo). I then sewed the brown E beads around. It came out pretty well I think and it was a very cute idea from Ginger.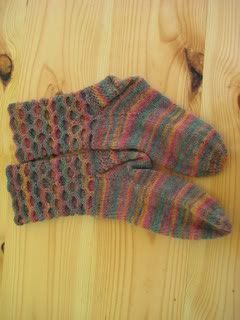 Ginger
received
Circle Socks
for her birthday. The pattern is by
Anne Campbell
. Oh la la! Those were as fun as the
Monkeys
. So much so that the Bean has asked that I make those socks for her. Ginger had requested
Pomatomus socks
, but they were just beyond me. I started them at least 4 times and didn't want to work on them at all. YOs and Ktbl on size 2's just didn't come together. Oh, and the yarn is a lovely Zitron Trekking Pro Natura Color 1601.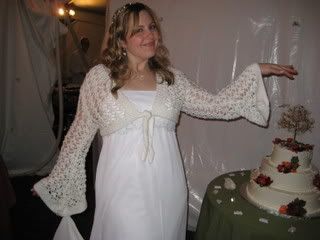 The most important gift of the season was the wedding sweater I designed and made for my lovely sister-in-law Suzie. She's a doll. She wanted a sweater to cover her arms for the wedding. We had a trial fitting of the bodice when I was up in NY this August. Good thing too - because I had made the sweater too revealing. Fortunately the lace worked up so quickly that I was able to drop the fronts down and remake them in 1 afternoon.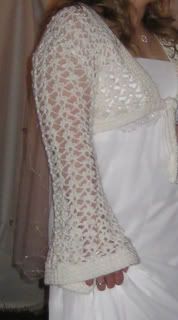 She wanted very big bell sleeves. I made them 25" - but I think she might have liked 30". I think they fall pretty well, but I might have redesigned them if I did it again. Funny story, right before the wedding I was looking at her, and she looked slightly uncomfortable; the sweater just wasn't falling correctly. Upon closer inspection I realized that she had the thing on upside down. A quick flip and all was good - and more comfortable as well. The yarn is TLC Cotton Plus in white. In the photos you can see the white is not as blue as the white in her gown. Sigh. Another sensitive skin wooly averse person. The good news is she looked fabu and wore the sweater the whole night through.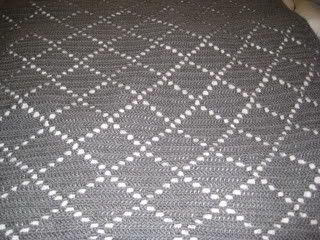 Here is an afghan that I designed which I call "Lazy Lattice". It is a filet blanket for Bean's teacher's father. He was recently diagnosed with pancreatic cancer, but thankfully they believe they completely removed the growth in surgery and he is on his way to recovery. I will have this available as a free pattern as soon as I get my act in gear.
Ah, Sunrise Circle Jacket.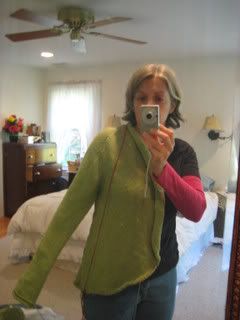 My gift to me, someday. My row gauge is off. I knew this and compensated for it in the back. Fortunately I didn't cast off the front before I tried it on. It is way too long in the arms and the front is too big to attach to the back.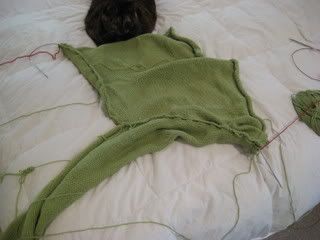 I was able to try it on by quickly basting it together using a
#2 47"
knitpicks
circular needle. No, they do not pay me, but I love, love, love all of my nickel plated knit picks needles. They are so smooth and pointy. It's a dream to work with them, and a nightmare when I can't.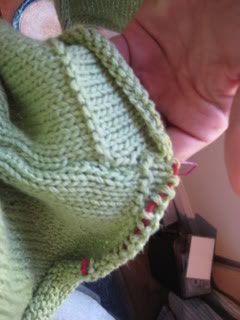 It I have to throw in a life line and frog about 8 -10 rows off the front. I also have to pick out the cast on at the wrist and frog back a few inches. The cotton is so heavy it is dragging the cuff hem down. At least I know how to fix it. I'm just not mentally ready to do it yet.
So instead I started making my Feburary Lady Sweater