Well, it has been 206 days since my last confession. There's no real excuse. I've just been doing other things. And as I got further and further away from my last post, it became even more and more daunting to come back.
I simply seemed to have lost my mojo. Don't take that to mean that I haven't been making things. Au contraire, I have been busy. The kids got lots of capris, skorts, and shorts to start school. A few dresses are thrown in there too, including 2 for me.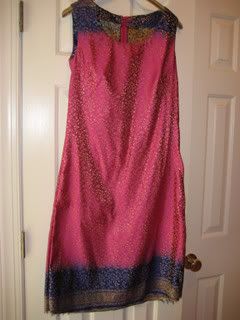 Vintage Simplicity Pattern lent to me by Amy. Sari fabric courtsey of Jo-Ann fabrics clearance section. - What were they thinking.
I've been making toys, blankets, dolls and sweaters for the innumerable babies being born in the last year.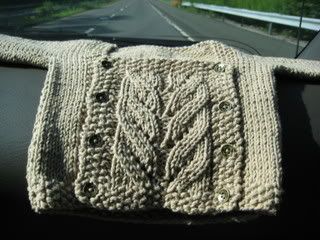 Presto Chango Sweater by Valerie and posted at Jimmy Bean's Wool.
And of course there was the major hard drive crash of '08. We lost everything after our last full backup in 9/2006. We've been scrounging around for pics of the kiddos and fun things we have done. We've recovered somewhat. We were pretty good at getting the best pics printed, so it's not a total loss.
I've made sweaters...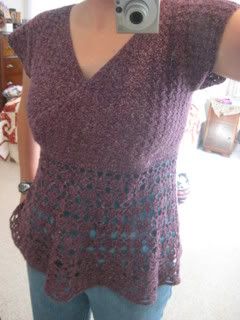 Empress Babydoll Top by Robyn Chachula from Interweave Crochet Spring 2007
Look, it's the same yarn as my Cabled Socks - I even have a little left, what a cone!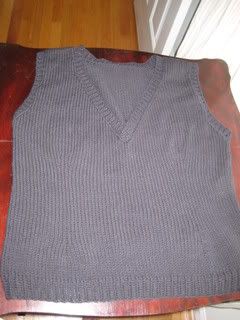 The Cotton-Ease I received for Christmas from WonderHubby became a vest for me - with waist shaping.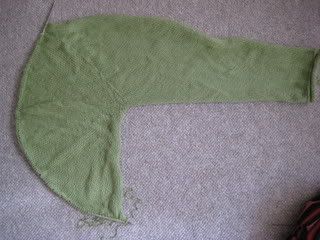 Sunrise Circle Jacket by
Kate Gilbert
originally from Interweave Knits Spring 2006, but I got mine free online in the spring. This is the front left and left arm.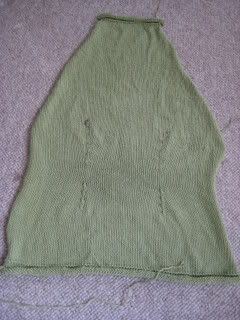 Back view.
Well, that last one is not finished yet, but I've been side tracked by birthday and wedding things.
You will see more pictures once certain things have been delivered. They have been photographed, so that's half the battle. Just you wait. Okay, not quite with baited breath, but I should be back sooner rather than later.
Big (old)news... Baybah finally decided to potty train herself around the 1st week in March. Just a few weeks later, it seemed like she'd been trained for ever. I only mention it because I left you hanging oh so long ago my faithful readers.
We found a
new recipe for canning tomatoes
this year. Wonder Hubby found it to be precise. We roast the tomatoes on the grill will all manner of herbs and garlic then we use our new Oxo Food Mill. From here we either cook it with sausage and meatballs to make "The Most Delicious Sauce In the World" or I don't add the meat and can it. I probably put up about 30 quarts this year. Whew. I also put up 4 quarts of Indian Grilled Tomatoes from the re-released
Madhur Jaffrey's Quick and Easy Indian Cooking
. Yum.
Sorry fellow readers to have neglected you for so long. I hope to be back again soon with more pics and linky-dinky-doos.