Well, I haven't been here, because I've been having lots of fun knitting and crocheting.
Example 1: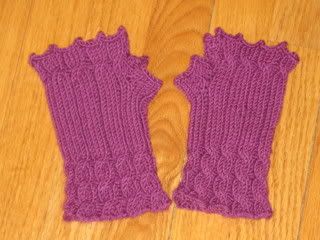 Fetching mitts
from
Knitty
. Cute, lovely, comfy, quick. I liked making these. I could see making these again for someone else. I have 2 more skeins of the Peru DK Luxury that I used on my Purple Haze sweater. Since Baybah snatched them right off the ironing board after steaming, I think she will get a pair. And when one gets something... so does the other. Well, maybe next year.
Example 2: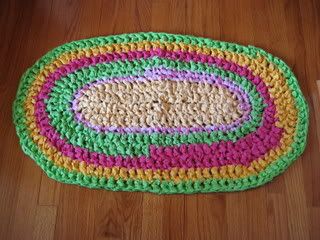 A 36" x 20" throw rug made from strips of finished fabric. Meaning I cut it up, sewed it together, then used a bias tape maker to press the little buggers into neat strips with no raw edges, and rolled them into neat little balls. I made the "yarn" up last winter, but just didn't like crocheting with the large hook. I gave up too easy. The balls of farn(?) were mocking me, plaguing me and taking up space. So I plunked myself down on the floor and made it happen.
I LOVE IT!!! It's so great. I'm looking forward to doing it again.
Example 3: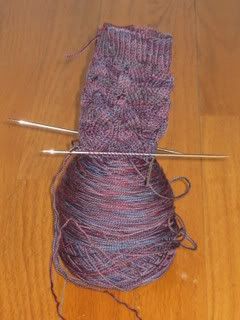 Monkey Socks!!!
I love these too. They're so quick and easy and fun. I know understand why people love to make socks and love to make these socks. I already have another ball of sock yarn set aside for another pair for me.
I am making another Lacy Child Top, this time in long sleeves. I need to sit down on it and finish the sleeves, etc. I'd better get a move on so Bean can have it on her birthday. Damn you, Monkeys.
I've also been cruising on Operation Toasty Toes Mitts. Working on getting some stuff finished so I can send it out. I like to finish skeins of things before I send them, so that takes a little while. Unfortunately, I can only get 5 mitts from a skein of Red Heart Super Saver, that means I need to have 2 skeins to not have leftovers.
My baby hats are lacking. I haven't made one, except for the ones I've give to people for their own babies. And speaking of babies, we have news of 2 coming this year. I'd better get a move on.
I had a blissful sewing day last week. Wonder Hubby took the kids to visit his sister for the day. I sewed from 10-5 and then went back from 8-10:30. Wow, that was a lot. I made... 3 skirts for the Bean's birthday (on Saturday - 6!!!!), I put a hem around 4 pieces of flannel for receiving blankets, made 12 bags for the forthcoming Easter Egg hunt (lined and all - no handles yet - I'm thinking ribbon), and a flannel bathrobe for each of the girls. What a day. I was tiring and pleasing and reminded me how much I like to sew and how much I need to work through my fabric stash too. I have a sundress lined up for each of the girls. I need to make a baby quilt for one of the babies this summer (big brother and sister each got one, so I'm keeping the tradition going).
Okay, I'm going to visit the Monkeys again. And play with Baybah, of course.