Ah, the first set of Monkeys is finally done. Unwashed and unblocked in all of their glory. I got the first one done quickly, but then I hit a stumbling block. Grafting. Kitchner Stitch. Sigh. You may remember that I did knit each of my girls a pair of socks for Christmas, but the toes were just awful. I can admit it. I like perfection and they were no where near it. I'm not there yet, but I did a lot better.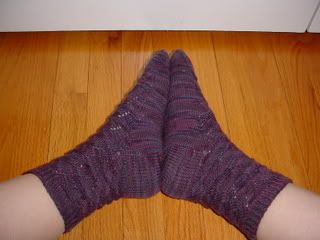 I grafted the first toe wrong and so the sock sat idly by, waiting for birthdays and parties to pass so I could concentrate again. I left the toe waiting while I cast on the second sock. After a marathon of preschool knitting yesterday, I managed to get the second sock down to the toe decreases and wrapped it up last night.
Toe grafting came today with the help of
Knitting Help.com
. I've tried, pictures, diagrams and written instructions, but evidently I needed much more visual help. Finally, they are done. I do have more sock yarn waiting for me, as well as Wonder Hubby's socks, but I need a different project right now.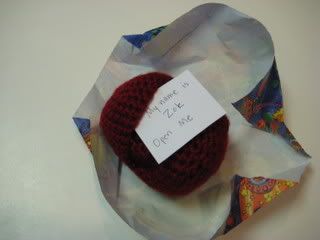 I whipped up this little baby in two days for a birthday. Our friend Oscar came and loved a toy we had. He's turning 7 next week, and the original toy was a bit young for him and a bit girlie, so I decided to cobble this together.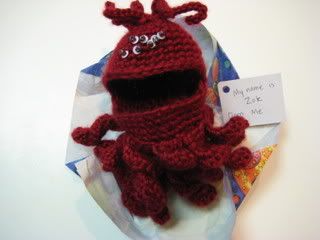 Zok the Alien has 7 tendrils on his head and 7 eyes, because Oscar is turning 7. It's convertible. It works, and I'm glad it's done. I was sewing on eyes about 1 hour before the party on Sunday - so lets let out a collective "Whew".
What am I up to next? Well, I've finally started the first pattern I made in the
Smart Patterns
program Wonder Hubby got me for Christmas. The program is limited to v-necks and crew necks right now, women's sizes only and only worsted weight and higher yarn. The work around is you can put in your measurements and your gauge and have it plunk out any sweater you want. Sort of. There are less than 20 motifs for color work (which you can mix and match) and no other stitch patterns included. The program has only Lion Brand Yarns built in. Personally, I think they rushed to market too quickly and set up a deal too early with one yarn company. I'm still only at the waist ribbing on my sweater, so there's lots of stockinette to go. I'll keep you posted.